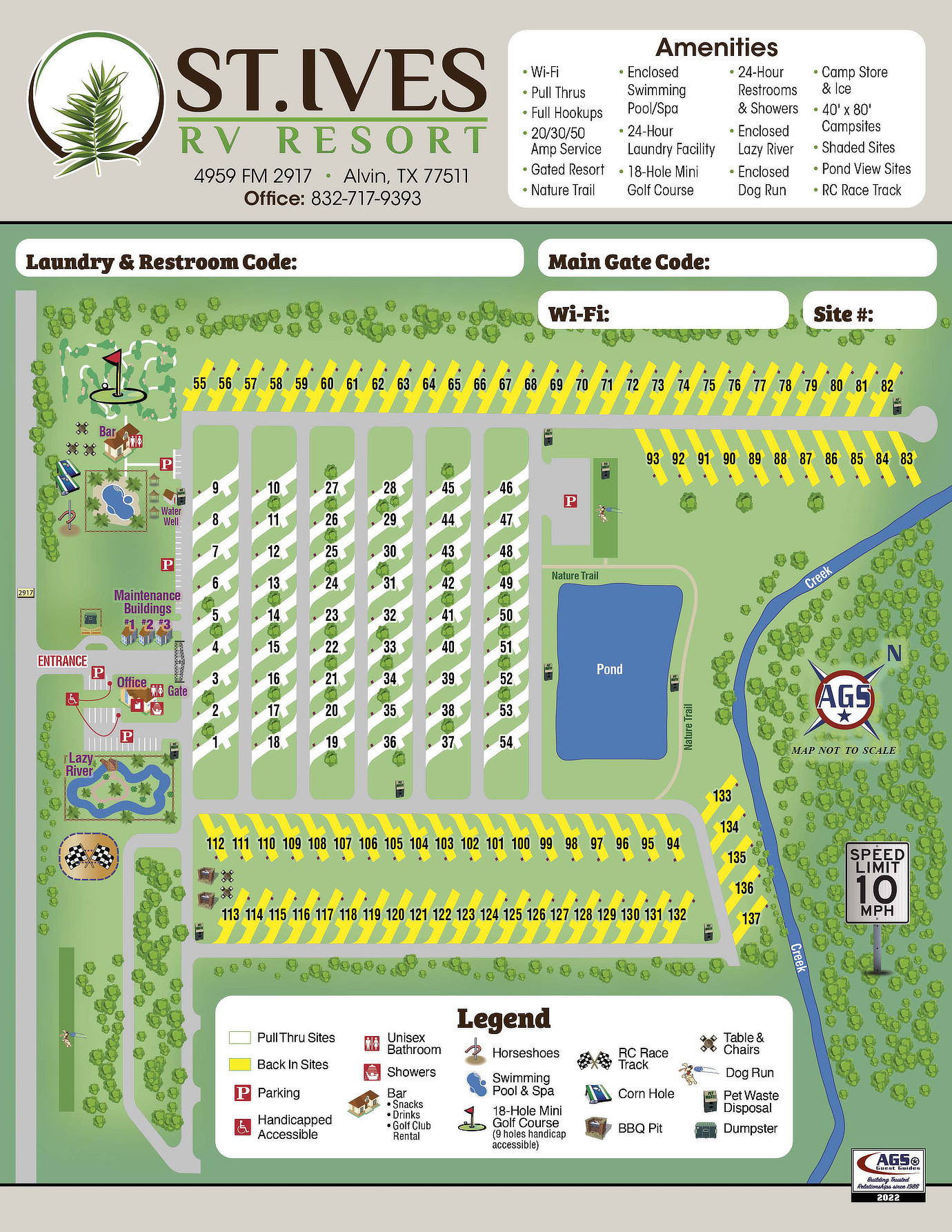 GENERAL:
• Quiet time 10PM
• Check in time 12PM (if going to be late let office know before 6pm for additional instructions)
• Check out time 11 AM (if not departed on time card on file will be charged for additional days)
• Two Gate Cards (For long term guest only) - $15 per replacement card
• Registration/payment due immediately upon arrival. Cash, Credit Card & Debit Card accepted.
• Site Transfer Fees $25
• RV and vehicle Resort tags must be displayed at all times when in the Resort.
• RVs must be well-kept & in good condition; RVs 10 years or older must be approved (With pictures) by management.
• Solicitation or signs for the sale of products/services will not be allowed.

SAFETY:
• A 10 MPH speed limit is strictly enforced.
• BEWARE!! We are in an unincorporated area with wildlife such as alligators, wild hogs, bobcats, snakes - take precautions.
• Swimming is NOT allowed in the retention pond. Do NOT feed birds/wildlife. Do NOT leave food out at all.
• Fishing now allowed in pond, catch & release.
• Hurricane Procedures: In the event of an ordered evacuation, you are required by state law to evacuate the property with all your property & animals. No refunds or transfer of reservations to alternative dates in the event of voluntary/mandatory hurricane or storm evacuations. St. Ives RV Resort or any of its staff or owners are NOT!! RESPONSIBLE for pets or property left behind or lost & damaged due to storms or evacuation.
• ALL vendors must be licensed, insured and approved by Resort management.
• No sub-leasing is allowed.

RATES PER SITE (maximum of 6 guests per site):
• 1- RV, 2-vehicles, 2- adults 14 yrs. & older, 2- children 2-13 years old (Additional persons $10 per person per night).
• All fines (after 1 st warning) are applied immediately to account & charged to the card on file.
• Monthly (extended stay) sites are subject to site checks.

SITES:
• Please keep your site clean & safe. A site clean-up fee may be assessed if left dirty.
• One Small outdoor table & chairs (NO! indoor furniture or trashcans outside on site)
• Plants & 1- small outdoor table are permitted alongside RV or in the Picnic areas at your site.
• Canoes; Boats and Kayaks storage must be approved by office. (Additional fees may be assessed).
• No open campfires allowed. Manufactured outdoor cooking/charcoal grills & above ground fire pits with proper fire arrestor are permitted.
• Canopy and Awning tiedowns must be visible at all times; if they are not in use, please remove or mark them clearly for lawn maintenance safety.
• Carpets are not permitted in the Grass (please keep them on the gravel or in the gravel picnic area)
• Window air conditioners; clotheslines; freezers; refrigerators; fencing; dog kennels; dog runs; barriers of any kind are NOT allowed. Generators may only be run during power outages & with management approval.
• Water hoses/sewer lines must be free from leaks & have proper connectors.
• Dog Pens, decks & porches must be approved by office (fees may be accessed).

CHILDREN AND VISITORS:
• Visitors must check-in at office.
• You the guest are responsible for the safety & conduct of your children & visiting guests. (Fees may be assessed)
• All children must return to their site by 10PM; Children under the age of 14 must have adult supervision at all times.
• Children under the age of 16 must wear a helmet when riding a bicycle (Skateboards & in-line skates are not permitted)

ALCOHOL, SMOKING, DRUGS AND FIREARMS:
• Absolutely NO discharge or use of firearms or fireworks is allowed.
• All weapons shall be kept in compliance with all applicable state and federal laws.
• No alcohol or outside food/drink is permitted in any common areas unless purchased from our clubhouse bar.
• No open containers beyond the common areas, or crossing the road into the resort.
• Drinking is allowed at your site. You may not bring your beverages to the common areas.
• St. Ives RV Resort, or any of its representatives, staff or owner will NOT be responsible for people of any age driving while under the influence.
• Smoking is prohibited in all Resort buildings. Dispose of smoking materials in proper receptacles, site cleanup fees apply.
• No criminal or drug related activity in or near the Resort will be tolerated.

PETS:
• Maximum of two (4) pets per site (rates include 2 pets)
• Dog Stakes Must be visible at all times and cables pulled in after each use.
• No aggressive dogs allowed.
• Management reserves the right to refuse pets based on breed/behavior.
• All pets (dogs and cats) must be on a leash AT ALL TIMES. Pets may not be left outside unattended.
• Wildlife/farm animals are not considered pets and are NOT allowed.
• Dispose of pet waste IMMEDIATELY using pet waste stations. Waste fee - $50 fine, failure to comply will result in $10 charge per day following notification.
• Animals are the exclusive responsibility of their owners. (NOT!! St. Ives RV Resort or any of its staff or owners)
• Noisy pets and failure to dispose of waste will not be tolerated.

VEHICLE RULES (two vehicles per site):
• Do NOT drive through or park in vacant RV sites. $55 fine applied
• All persons must have a valid driver's license to operate any motorized vehicle on the Resort property including golf carts.
• Golf carts must be well maintained & compliant with local laws.
• No parking on the road or on the grass - $50 fine
• Lock all vehicles and RVs.
• Operation of motorized scooters, ATVs, minibikes or any unlicensed motorized vehicle is prohibited on Resort property.
• No repairs or washing of vehicles or RVs allowed (Insured & Bonded Mobile services are welcome on premises with notification to the front office)
• DETAILING SERVICES MUST PROVIDE THEIR OWN WATER


BEHAVIOR AND NUISANCES ($250 Call Out Fee After Hours):
• Excessive noise/nuisances created by guests/visitors will not be tolerated. An after-hour disturbance fee may be assessed for any calls received.
• Common courtesy shall prevail between all persons on Resort property. Obnoxious, profane, abusive or threatening language, behavior and/or actions directed at staff member or guests, or that could adversely affect the enjoyment of other parties utilizing our facility is prohibited; anyone engaging in such activity will be required to leave the Resort immediately without refund at the sole discretion of Resort management.

Damage to Resort property, including but not limited to-Lazy River, Pool, Hot Tub, Golf area, restrooms; utilities; landscaping; vehicles; street lights or signage is strictly prohibited.  Guests will be held responsible for the repair of any damages.  We reserve the right to refuse service to anyone.  St. Ives RV Resort assumes no responsibility for fire, theft, vandalism, natural happenings, injury, accidents or losses from any cause.  St. Ives RV Resort is not responsible for any damage to vehicles caused by other guests/visitors.  St. Ives RV Resort is not responsible for any personal property or damages of property not in compliance with the rules. St. Ives RV Resort reserves the right to limit the stay & number of persons per site.  Willful violation of these rules will result in termination of tenancy & barring from the property.  These Rules supersede any previously written or discussed.  Rules & rates may be changed at any time without prior notice.  Violation of any rules may result in you being asked to vacate the property; NO REFUNDS. * By receipt of St. Ives RV Resort's Rules, you acknowledge your agreement with the terms & conditions.